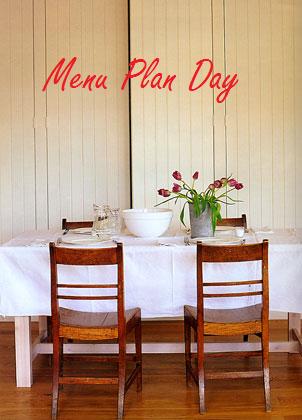 Are you a faithful menu planner each week? Do you stick with it, follow it to a tee or have some flexibility? Either way I envy you!
I can't say that I am much of a planner when it comes to meals, wish I was better at it. I often have ideas of what we will eat each week and use my white board calendar in the kitchen for a tentative menu which often changes a few times. I have a ton of recipes and know what my family likes, I know what's in my freezer and so that's how it goes most of the time. 🙂
So this is my attempt to become better organized and hopefully just give you ideas for dinner as well.
Oh and you'll see only breakfast and dinners , no lunch included. Sorry!
Breakfasts this week:
Cereal with blueberries
Daddy makes breakfast
Left Over Choices
Dinners this week:
Something I want to try this week and saw on Pinterest:
Oven Roasted Cauliflower with Lemon Tahini Dressing from Beyond the Peel!
Upcoming Recipes this Week on SFM:
Chocolate Raspberry Ricotta Creme
Single Serving Egg White Puff Pancake
Low Calorie Mocha Iced Coffee Frappe
Baked Breakfast Quinoa
What's on your menu this week? Share below and your link to your menu plan if you are a blogger!